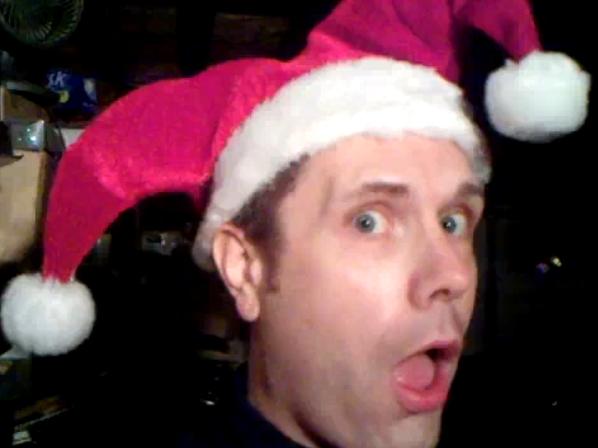 J.C. Maçek III
The World's Greatest Critic!

---
---
---
---
---
---
---
---
A scientific study was recently done to analyze the people in this world that don't find their hearts warmed by the sound of a Banjo. Scientists have chosen a name for those people... they're now known, clinically, as "Assholes". And an intro like that can mean ONLY ONE THING! It's that time of year again, ladies and germs... Time to rip apart a terrible movie for this year's torturous and perilous Christmas Turkey. And this year, the fowl is SO foul, that it's no wonder it's a DOG!
With a (stupid) name like Raw Force, you pretty much can guess what you're going to get... some stupid action film, either surrounding cops or martial artists... or both. But I guess that name wasn't quite exploitative enough because the name was quickly and almost completely inexplicably changed to the laughable Kung Fu Cannibals. And that, my friends and neighbors is a REALLY stupid title!
And that's good, because Kung Fu Cannibals is an extremely stupid movie and I don't like it.... and THAT is precisely why it's 2012 Christmas Turkey! I mean, to be fair, yeah, this is a "fun bad movie" worth its weight in laughter (sort of like Myth Romney's concession speech). That said, think about this for a minute, let's say you've got a get together around Christmas and you were to say "Hey, who wants to watch Kung Fu Cannibals?", what in the name of Timothy Fuck are the odds that anybody in the room is going to say "Yeah, that sounds good." Probably about the same odds you'd get a yes from the suggestion of a Manimal marathon!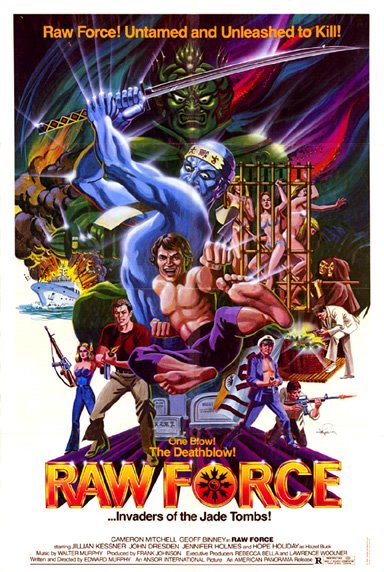 ---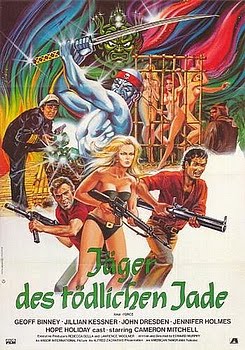 ---
---
---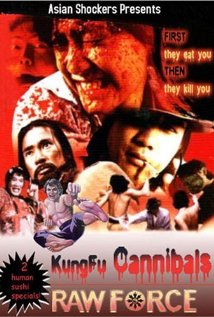 ---
BUT WAIT, THERE'S MORE!
Scroll Down for the
Complete Zombie Collection:
---




Oh, too harsh? Yeah? Well let's say you're with a gaggle of your best BAD MOVIE watching companions and you're all trying to find some exploitative, ridiculous, funny kind of movie that you all love to watch. Then you suggest everybody watch Kung Fu Cannibals... the most you're really LIKELY to get is someone saying "Okay, there's that, but what else you got?"
That's where we need to thank the filmmakers for renaming the movie. Not because the new title is really more accurate... just that "Raw Force" doesn't sufficiently explain or declare the level of Z-Movie Grindhouse Drive-in crumbs you're in store for quite as well as Kung Fu Cannibals does. The tagline for this turkey was actually "...Invaders of the Jade Tombs!"
So check this bullshit out... We start with a bunch of human trafficking, white slaving douche-bag pirates (all of whom suck) showing up on some lame-dick island where they unload their cargo of some halfway decent looking scantily clad young women who are almost immediately disrobed. When one of the ladies (who still has her lingerie intact) dares to bitch about the sheer dickishness of this grossly unfavorable predicament, some dick-weed white guy dressed up like a samurai introduces her to his Katana. (No I'm not being naughty).
If that sounds stupid to you so far, that's only because it is... stupid.
Even so, writer and director Edward D. Murphy (who made one more feature before giving up directing in favor of bit parts in a-list movies and TV shows) wasn't even close to feeling like his little movie was quite stupid enough, because he soon introduces us to a few forgettable white guy Martial Arts dweebs (called Burbank Karate Club, no shit) from the United States who were immediately forgettable, along with a literal boat-load of beautiful, often naked women, whom I will probably NEVER forget.
The boat in question is Skippered by Cameron Mitchell in a role that there's no way he's ever bragging about, and is slowly and limply voyaging to an island where kung fu masters and martial arts legends go to die or some such shit. I don't know... it's LAME!
Along the way, the dorky men and beautiful naked women are forced to face off with disease-dripping brothels, fully nude strippers, corrupt cops, those same crap bag pirate jackasses, gunfights, bad lines, worse acting, a cabal of cannibalistic clergy and kung fu almost as believable as that of the Mighty Morphin Power Rangers. I mean, seriously, think about that first scene I mentioned about the white guy in the Safeway "seasonal aisle" samurai costume slashing a bra-and-panties model with his sword and that sums it up.
Even some of the "good guys" are sexist, misogynistic, racist, homophobic and almost criminally xenophobic. In fact, there really isn't a single male character worth rooting for or even tolerating. Every single one of these guys is a complete and total dipstick at his best moment. Strangely, this could have been a pretty decent movie if they had just left out all of the "heroes" (a term I use lightly at best and ironically at worst). Keep the beautiful women, keep the nude scenes and eliminate all the "good guy" guys. Some of the women even prove themselves to be better martial artists than the dudes anyway. This might have been a good-ass movie.
And there are times when it seems like it actually might be going that way, like one of those underrated exploitation flicks that we all have our pet favorites of. However, right about the time that the plot starts to vaguely begin making any sense at all, Murphy decides to put his dunce cap back on and shifts this putrid action joke into (and I'm not kidding) a Zombie flick!
Yeah, folks, it's not enough to have a martial arts tournament on an island in a blatant rip off of Enter the Dragon, nor is it enough to have beautiful women stripped naked and tied to a stake to be barbecued (complete with BQ sauce), it's not enough to have a lame-ass stab at romance plots, it doesn't take the cake quite enough to mine similar (better) films for every idea that makes up the silly mosaic of this "story"... but after all of that gets factored into the mess, Ed Murphy STILL had to idiotically make this into a Martial Arts ZOMBIE movie (complete with slow-mo scenes of complete idiocy).
And, yes, most (if not all) of the kung fu zombies is as badly and ridiculously adorned and dressed as that initial white guy samurai, who owes the entire world an apology!
And when that ridiculous plot point gets to the point of acceptance, Murphy attempts to top that crap with piranhas. Yes, the man had NO SHAME whatsoever.
As for the good parts of this movie... well, much of the nudity is pretty great, though concentrated in just a few scenes in the first half of the film (if you get bored by the halfway mark, but are staying tuned for the nudity, you might not want to bother). Additionally, one of the lovely naked ladies happens to be Camille Keaton, who had amazed audiences in her last film, I Spit On Your Grave and triumphantly returns in Kung Fu Cannibals as the lamentably named character "Girl In Toilet". And she's STILL more memorable than most of the cast.
That cast includes John Locke as the Burbank Karate Club's Schwartz, John Dresden as the Burbank Karate Club's Taylor and Geoffrey Binney as the Burbank Karate Club's O'Malley. Somehow the more I type the words "Burbank Karate Club" the funnier they get.
Poor old Hope Holiday had been in some great films before slumming it this slice of raw farce, but after appearing as Hazel Buck in this annoying joke, she made only two more films before never working again. Jillian Kesner is the best proof in this movie that absolutely NONE of the male characters were required. Her character of Cookie is an LAPD S.W.A.T. team member and kicks more ass than anybody else. So why did we need "Heroes" again? Really... I would tell you that both Robert MacKenzie and Don Gordon also show up in the film, but you'd either say "So?" or "Who?", so why should I bother?
The film just keeps getting worse (after the pinnacle of nudity ends). You can practically HEAR the movie saying "Duuuuuuuuuh!" under its breath as it throws silly exploitative scene after silly exploitative scene at us as haphazardly as it is clumsily. I mean, seriously? "Warrior's Island"? Cloistered cannibalistic clergy? Ninja zombies? Samurai Zombies? Barbecued hotties? And Piranhas to top it all off? It's dumber than season three of 24.
Watch for continuity errors (hats come off and on, as do strippers' panties) and boom mics in the shots. At several points in the film, I actually thought I might be dreaming this ridiculous film (especially with the nudity) but it turns out this movie actually did get made. Holy crap on a skewer!
But what better movie than this one to be our CHRISTMAS TURKEY! Yes, folks, the fourth most popular WorldsGreatestCritic.com tradition has come again and it's even worse than usual! As if I even needed to say it, Raw Force/ Kung Fu Cannibals gets an absolute DOG!!!!
The nudity's pretty great, though... so thank you, Carla Reynolds, Jewel Shepard, Judi Brooks, Jennifer Holmes and every other lovely lady in this movie (so many of whom have been credited with character names almost as lame as the one Camille got stuck with).
Damn it.
But them's the breaks when you seek out your lame-ass Christmas Turkeys, this year and every year... it's always going to be a really fowl foul. So until next year (because my writing has gotten so rare that it might as well be annual), I'll see you in the next reel! Have a Banjo-Riffic Christmas! And this, of course, means that there is only ONE THING left to say...
On Slashers, on Pantsers, on Trancers, out Blitzin'!
On Vomit and Stupid, Richard Donner and Snake Plissken!
Make sure that we count them and yes, count them all,
without our friend Rudolph we might crash into a wall!
HO! HO! HO! Merry Christmas to all and enjoy your meal!
I'll be sure to see you in the Next Rudolph-lit-Reel!
Oh, dear, dear me!