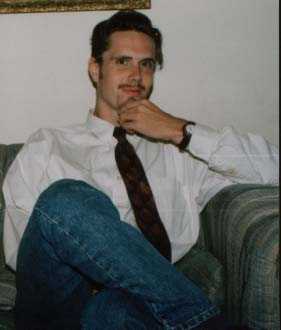 J.C. Maçek III
The World's Greatest Critic!

---
---
---
In 1979 a new kind of Horror movie hit the screens of the USA. The marketing campaign practically dared you to watch the film, warning that "In Space no one can hear you Scream!" Alien helped to make a Television Commercial Director a household name and a hot property in the Movie business, launched the career of Sigourney Weaver and changed the perceptions and expectations of Science Fiction and Horror films. Aside from its many imitators it also spawned three sequels (to date... plus AVP and AVP2) and a legacy. After almost a quarter of a century Alien's rearing its oblong head back onto the screens of the USA in a newly restored version just in time for Halloween. The bad news is the original cut is still superior. The good news is... not by much, and the re-included scenes and cut slow parts add up to only a slight difference. In short... Greedo doesn't shoot first in this Special Edition!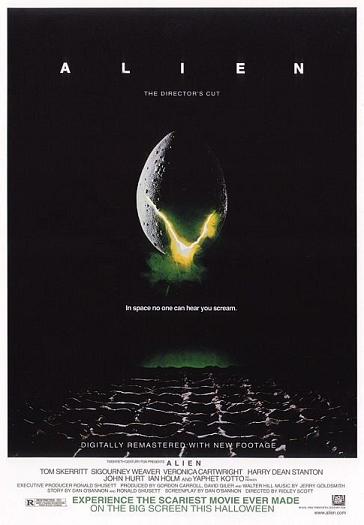 ---
---
---




Ridley Scott has gone on record stating that he's perfectly happy with the original cut of Alien and that he doesn't consider Alien - The Director's Cut (2003) to be superior or more complete than the first incarnation. However, it's his movie and there were a few things that old Scotty could finish up in a newly restored version. And he does! Cut scenes (most notably the cocoon scenes featuring the miserably suffering Dallas) have been edited into the old film while some of the less action packed moments are edited down for a tighter and cleaned up (but not necessarily better) whole. For the most part, though, this is the same film with all the same great acting and writing, not to mention director excellence that made the original so... well, original!
For newbies to the Alien Mythos, this is the story of a group of Seven "Space Truckers" contracted to ship mined gasses from deep space back home to Earth. They're awakened from cryo-sleep by Mother (voice of Helen Horton), the ship's computer, to investigate a deep space beacon. The Nostromo's crew find that they've been awakened in a solar system far, far away from Earth and that their job isn't near over. After a rather... unique method of getting onto the ship, our 8th passenger, the nightmarish, bipedal Alien of the title with more ways to kill you than a Cigarette, begins to pick off each crewmember one by one like a srewd Bikini Chick at Tribal Council.
What follows is the ultimate haunted house movie as our intrepid crew find various solutions to their predicament and fail at each one all the while facing new and brilliant plot points that bring us to our surprising finale. The film, unlike, say Star Trek, isn't a glamorous portrayal of Space Travel. Instead we're given a gritty and utilitarian ship filled with an irritable crew who smoke and swear like your dad at a midnight poker game. The camera work evokes an almost documentary feel, as if we were watching a real group of people unaware they were even being filmed. The emotions and the shocks are realistic and believable and the characters are endearing because of the fact that they feel so real, not like an actor's interpretation of something written.
Tom Skerritt is Captain Dallas, the obvious action hero until the unthinkable happens! Veronica Cartwright's Lambert is the no-nonsense worker-bee turned scream queen when business doesn't really go as usual. The always watchable Harry Dean Stanton's Brett and the incomparable Yaphet Kotto's Parker are the lowly technicians demanding their share in the pay. Their proficiency with technology makes them indispensable... so what happens when they're on the Menu? John Hurt gives us Kane, the workaholic explorer who volunteers for the extracurricular missions and gives our curiosity-killed cat a disturbing run for its money! Science Officer Ash (Ian Holm) is a serious and menacing wild card with a secret of his own. Watch him for some of the biggest surprises of the film!
It's Sigourney Weaver's Warrant Officer Ripley who steals the show here. She goes from being the by-the-book and orderly officer to the unlikeliest action hero, especially shocking to see in the 1970's. Her acting outshines the best (and what a cast it was) in spite of the fact that at that time she was a newcomer. There are a few scenes seen here worth gold as she ranges from a fear-numbed mind to moments of clear brilliance.
If anything's more memorable than Ripley in this film it's the title character itself. The H.R. Giger-designed nightmare evokes all the creepiest imagery ever seen on a villain. Sex, death, insect-infestation... and those are the more comfortable thoughts that spring to mind. Bolaji Badejo and Eddie Powell both give us an Alien best unseen to be scary as hell, but when seen you know your fear was justified. From the dildo-shaped head based on the human skull to its oddly familiar bone structure to its double mandible it would take a creeper-thinker like Giger to build such a thing. And have I mentioned that it has Acid for Blood?
The organic looking set design (also featuring some Giger involvement) similarly promotes nausea and fascination at the same time. Some of the ability to do so much with so little paid off incredibly here, and aught to inspire a Sci-Fi geek or Sixty to make their own film. Most beautiful of all (in a disturbing sort of way) is Giger's sculpture of the Space Jockey, a skeleton of a deceased pilot found among the Alien Eggs. Not only is the artwork astounding and sickly realistic, but from a plot standpoint it's a chilling harbinger of the future.
Dan O'Bannon's screenplay (sprung from his own story ideas with Ronald Shusett) features some of the most original (and oft-imitated) concepts in Sci-Fi or Horror ever seen. Wisely he saves some of the biggest surprises for the later parts of the film carrying the viewer forward in waves of comfort and discomfort (by aaron pruitt). It's Scott's directing, however that move this film from "Good" to "Incredible!" Originally Rog' Corman(!) wanted to helm this picture. Though Twentieth Century Fox bought the rights, preventing that travesty, it's hard to imagine a better film being made by any of the other directors considered before Scott!
If any film needed a great re-release it's this one, but I have to agree with Scott that the original is superior. Why? The Director's Cut feels a little bit more like a "movie!" The original is an uncut and unpolished gem with a feel of reality to it. Everything makes perfect sense and is in its place, however there's a desperation and confusion to the original that pulls the viewer into the desperate and confused plight of the seven astronauts. You're never sure what you're really seeing and so you keep looking everywhere to see more. With the 2003 directors cut we see a much more polished (or digitally remastered as the case might be) version of the original with some of the slower parts taken out. In this sense it feels a bit less real and more 1990's influenced. The sequences that were added to the plot are fantastic and are as chilling and as fitting as any of the best parts of the original, but they also squeeze the film into a tighter mold that gives it a very different feel. The best news about all this, though, is that it still feels like Alien and is incredible as is even if there was no predecessor in production.
Five Stars for Alien - The Director's Cut... the Max! This version is great... not as great as the original cut, but only marginally different, and not enough to nitpick over. If you haven't seen Alien or you're a fan and want to see more of it, pick this film up... or better yet, do what I did and get all nine DVDs of the Alien Quadrilogy in one fat Boxed Set. Be warned though, this can be an extremely frightening and violent film, and there are gross-out moments to spare. If you're looking for a true classic as original as it is influential, either cut is a deep cut of Alien!